TEC-ART's Sprinter Trueno AE86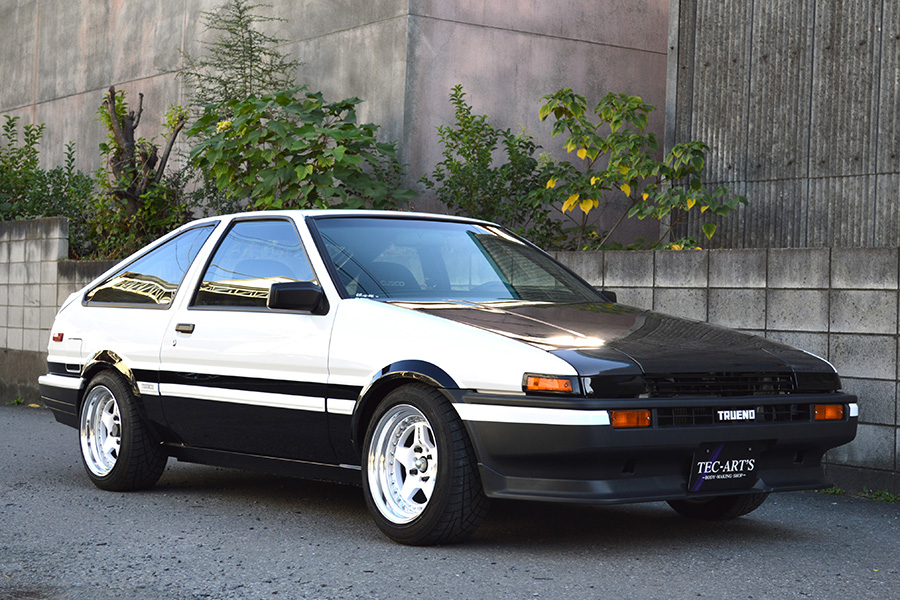 TEC-ART's Sprinter Trueno AE86
TEC-ART's Sprinter Trueno AE86 – SEMA Demo Car 2022
The vehicle was commissioned to Tech-Art's and transported from California to Japan for a full restoration. During the process, we combined aftermarket restoration parts and carbon parts. We installed CUSCO arms for the chassis and combined TEC-DAMPER (TYPE-C) suspension with SARD dampers. The engine underwent an upgrade to 1800cc (7AG-20 valve engine) with a surge tank and electronic throttle controlled by MOTEC. We used a high cam with 264 and a soft cam, effectively controlling VVT to maintain power and improve drivability and fuel efficiency.
For the exhaust system, we installed a collaboration of FUJITSUBO and TEC-ART'S parts, creating a quiet and comfortable sound. We paid attention to the interior, using CUSCO × BRIDE collaboration seats (Stradia III) for the front, and the rear seats/door trims are also in a complete collaboration specification. The wheels are WORK CR01, emphasizing a made-in-Japan finish for the AE86.
Engine:
7AG-20 valve
1,800cc
Forged Pistons: 83mm
Connecting Rods: TEC-ART'S 7AG dedicated
Crank: TEC-ART'S 7AG special crank
Camshaft: TEC-ART'S TEC-CAM264, IN 264 degrees, EX 264 degrees
Valve Springs: TODA
Valves: OEM
Head Gasket: Metal 1.2mm
TEC-ART'S Direct Ignition Kit
Oil Cooler: HKS 15-stage
Radiator: TEC-ART'S copper 3-layer radiator (TYPE-MAX)
Electric Water Pump (EWP)
Spark Plugs: NGK Iridium Top 3
Injectors: 400cc
Fuel Pump: TEC-ART'S Fuel Pump (TYPE-NA)
Air Funnel: TEC-ART'S Large Capacity Curl Funnel
Used Oil: MOTUL 300V 5W40
Catalytic Converter: TEC-ART'S Sports Catalyzer
Exhaust:
Exhaust Manifold: TEC-ART'S × FUJITSBO EX Manifold (TYPE-L)
TEC-ART'S × SARD Sports Catalyzer
Exhaust: TEC-ART'S × FUJITSBO High-Performance Exhaust
Electronic Parts:
Drivetrain:
Transmission: OEM
Clutch: TODA
Flywheel: OEM
LSD: Rear TRD/2way
Final Gear: 4.3 (OEM)
Used Oil: OMEGA690 140W
Suspension:
Springs: (F) 3kg, (R) 2.6kg
Shocks: (F/R) TEC-DAMPER (TYPE-C)
Stabilizer: (F/R) OEM
CUSCO Pillow Tension Rod/Pillow Lower Arm/Control Arm (N1 Link)/Lateral Rod
Brakes:
Calipers: (F/R) OEM
Pads: (F) Endless MX72, (R) Endless MX72
Rotors: (F/R) TEC-ART'S Super Slit Rotor
Brake Hose: TEC-ART'S Mesh Hose
Brake Fluid: MOTUL
Tires:
Brand: TOYO R1R
Size: (F/R) 195/50-15
Wheels:
(F) Model: WORK MEISTER CR01, Size: 15x8.0J, Offset: -3
(R) Model: WORK MEISTER CR01, Size: 15x8.5J, Offset: 3
Exterior:
Impulse Dry Carbon Bonnet/Doors/Roof/Rear Gate/Headlight Cover
Restore.COM Front Bumper/Front Fender/Rear Fender/Back Panel/Headlight Bracket
Front OEM Lip Spoiler
CRUIZE LED/Headlamp
Interior:
CUSCO & BRIDE Seats (Front/Stradia III Rear/Reupholstered)
BRIDE Trim/Floor Mat
TEC-ART'S Leather Dash Panel
TEC-ART'S Floor Mat
This vehicle has been inspected by Revhard Motors prior to importing.
This vehicle is current located in: Japan
4840 Broadway
Denver, CO 80216